People are moving fast from the cities to the suburbs. Their employers have laid off almost half of the workforce. Many want to start anew, away from the cities they once loved. The virus spreads faster in densely populated cities. Taking the family away from the hustle and bustle of Manhattan, for example, is one of the first things that parents did.
And then, of course, there's the issue about buying a home amid a pandemic. Isn't it overwhelming to do this decision right now? What should you be looking for in a pandemic-proof home?
Find a Great Real Estate Agent
Okay, first thing's first. You need to find a real estate agent that you can jibe with. These are not normal circumstances. You have to tour the house separately. You cannot meet over coffee as it is safer to hold your meetings via Zoom. If you are not comfortable with your agent, don't feel bad for breaking things off. You need someone who understands your concerns and issues.
Be Present During the Inspection
These are different times so you may not be allowed to join the home inspections in person. Find a way to be present during the inspection. Some companies and agencies might have a different set of policies about this, so find one that fits your demands. If there is no way for you to join in person, the least the home inspector can do is put you on a Zoom call. This will allow you to point out the areas that you are most concerned about. If you can, join the appraisal process, too, though don't feel bad if walk-throughs are not possible.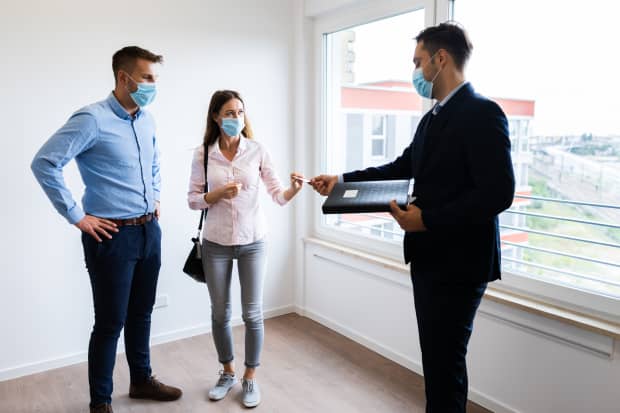 Look for Extra Rooms, Backyard
It might feel to you that you won't need a home office and backyard even if the pandemic is throwing everything you know out of the window. It will help to have a small home office that overlooks the street or your garden. You need to be able to work in peace. Somehow, work-from-home setups will be the new norm. And as for socializing, a small backyard will open opportunities to host a barbecue party. Outdoor celebrations are all the rage now because health experts are advising against enclosed spaces.
Don't Sign With the First Bank That Offers You a Loan
It's tempting to sign your name on the first loan offered to you and be done with it. Shop for more rates and loan options. The market is swinging wildly because of the pandemic. You need to make sure that you are getting the lowest possible rate and the best mortgage terms. Also, experts said it's best to lock the rate before noon, so you have to do the negotiations early in the day.
Pick the Right Neighborhood
You're going to stay in this house probably forever. How safe is your chosen neighborhood? Do you feel safe walking on its streets at night? If you're living alone, will your neighborhood allow you to sleep soundly? You can go to the local police station to ask about crime incidences in the area. They'll be happy to give you a report about it as they always receive this request from prospective homebuyers.
It is scary to make investments right now, but the housing market is giving away good mortgage rates. If you have any plans of buying property, this might be your best chance to lock in a good rate. Yes, even if it's a pandemic. Just remember to do your research and find a real estate agent who can guide you through the delightful process of finding a home.